Even if you've booked hotels many times, it can feel like an overwhelming task. Is it better to book a room far in advance? What are the cancellation policies? What's a normal price? What about rewards programs?
In this guide, we cover the basics: how to compare hotel rooms, when to book and what common pitfalls to avoid. Of course, there are hundreds of online booking options, so we won't go into the nuts and bolts of how to navigate specific tools, but you'll gain a solid foundation for booking lodging for your next trip.
Best hotel search engine
The first thing you'll want to do is pick a hotel search tool. Here are some of our favorites:
Frankly, these hotel search tools are very similar, and as a beginner, the differences are unlikely to matter much. That said, for its simplicity, we prefer Google hotel search; for earning rewards, we prefer Hotels.com.
The best time to book a hotel
This is one of the most important differences between flights and hotels: how far in advance to book. Conventional wisdom for booking flights holds that you should do it as early as possible, and that's generally true. But the opposite holds for booking hotels: You'll often get lower prices if you book closer to your travel date.
Data from our points and miles valuation analysis bears this out. We saw an average hotel room cost of $209 per night when booking 15 days in advance compared with $290 per night when booking 11 months in advance at the same properties.
These are average values. So, this doesn't mean that you'll always save money by waiting until the last minute, but it does mean that you shouldn't book far in advance in order to save money. Belated demand for rooms during an event, like a conference or holiday, can shoot prices through the roof at the last minute. In general though, these are the exceptions that prove the rule.
For those who like to plan everything in advance, this advice can be challenging. You can always book far ahead of time if it gives you peace of mind. But remember that those who fly by the seat of their pants are usually scoring the better deals.
How flexible are hotel bookings?
This brings us to the next point: What do you do if you need to change your plans, or if your plans are in flux and you need to prepare for the unexpected?
Most hotels usually offer a flexible booking option for most of their rooms, which will allow you to change or cancel your room without penalty up to a day before checking in; any changes within 24 hours of check-in may incur a fee. Some hotels will offer this flexibility automatically for all bookings, while others may offer some rates that are flexible and others that can't be changed.
Usually, the cancellation policy will be explained somewhere on the page or in the app when booking.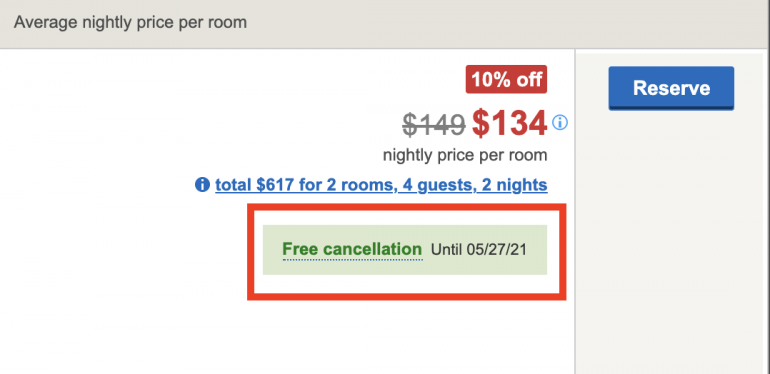 Look for a "cancellation policy" somewhere near the room rate. If it doesn't match your preferences, keep shopping. Many hotel search tools offer free cancellation as a filter option, like Hotels.com.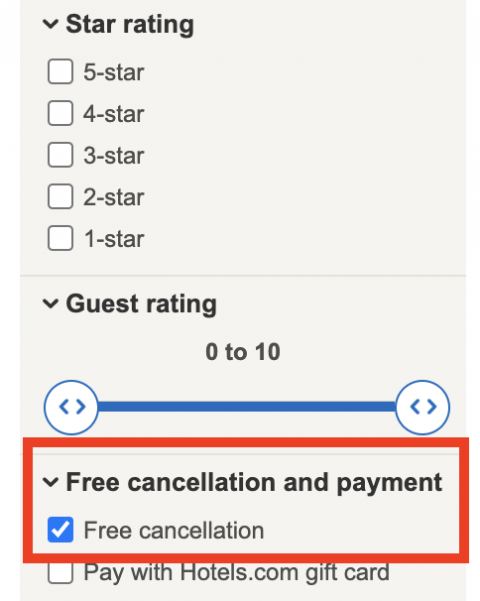 It's common to see lower prepaid rates on rooms, which is another way to say "inflexible." If you're absolutely sure about your travel plans, you can save a few bucks by selecting these prepaid rates. Otherwise, choose room rates that offer free cancellation.
Find me a cheap hotel
Unlike airlines, which all offer essentially the same product and are therefore in direct competition with each other, hotels differ significantly in quality. So it's hard to find screamingly good deals on hotel rooms in the same way you might with airfare. Instead, you'll generally get what you pay for.
That said, here are a few tips for booking cheap hotels and scoring lower room rates:
Be flexible. This is the cardinal rule for traveling cheaply. If your travel dates to Las Vegas are ironclad, and there's also a major convention during those dates, you'll pay more. If you can build your vacation around when hotels are cheaper, you'll save money.

Compare full costs. Unfortunately, many hotels now carry add-on fees that can balloon the total cost of your room. You might find a good deal at a hotel downtown, but after parking and resort fees, end up paying more than a seemingly-more-expensive hotel with lower fees. Most hotel search engines don't show the final costs, so you have to do some legwork to compare them.

Lower your standards for city vacations. This tip might sound obvious, but the point of a city trip is usually all the stuff that happens outside your hotel room. This isn't necessarily true for business travel. On your next urban adventure, consider pulling back your standards for the hotel room so you can splurge on the fun stuff.
What about hotel rewards?
Frequent travelers can rack up points and rewards through hotel loyalty programs, or even through third parties like Hotels.com. These rewards can earn you free stays in the future, sort of like a coffee punch card.
As a beginner, you have to keep only a few things in mind with these programs. For starters, some points and rewards expire after a year or two. Hilton Honors points, for example, lapse after 12 months without account activity.
Also, rooms booked through an online travel agency, like Hotels.com or Expedia, generally aren't eligible to earn rewards points or count toward elite status. This is another difference from airlines, where you generally earn miles regardless of how you book the flight.
How confident are you in your booking?
If you're worried your lodging or trip plans may change or are at risk for cancellation, travel insurance might help. This optional standalone insurance can be purchased separately from your hotel bookings.
But you might not even need to pay out-of-pocket for trip insurance because many credit cards offer travel insurance as a built-in benefit to customers who pay for travel expenses on that card.
Sometimes, though, not even trip insurance will guarantee a refund. Unless you've purchased a Cancel For Any Reason policy, which is usually more expensive, you're only entitled to a refund if you cancel for a covered reason.
Final thoughts on finding a hotel
Booking hotels can seem like a huge, complicated mess, and to be honest, some of it is. But knowing the basics of how to book a hotel can give you the confidence to take your travel-planning game to the next level.
Just remember these hotel booking tips and tricks:
Choose one hotel search engine to start.

Don't worry about booking far in advance.

Compare final prices that include fees.

When in doubt, book flexible rooms that can be changed or canceled.
How to maximize your rewards
You want a travel credit card that prioritizes what's important to you. Here are our picks for the best travel credit cards of 2023, including those best for: