For many of us, there comes an age (typically around 16) when holidays with our parents become anathema: "Not a static caravan in Aberystwyth again Dad, I want to stay at home with my mates and drink Monster and play Fortnite!" (or, per your author, listen to the Doors and paint gloomy gothic tableaux). As we mature into adulthood, Britons most commonly plan holidays with friends and partners and later with our own kids, who will in turn become embarrassed by trailing around beach resorts with their cringey sun visor-sporting parents.
But a novel travel trend is upending this accepted cycle of holidaymaker life. Bonding holidays (one-on-one intergenerational breaks involving a parent and adult offspring) have emerged since the pandemic, says Tom Barber, co-founder of Original Travel. The tour company recently launched itineraries to cater for these holidaymaker duos, including a five-night biking and food tour to Catalonia.
"We're seeing promises made between family members in lockdown – 'When all this is over, we'll go to … ' – coming to fruition," Barber says. "Connecting over common interests or learning a new skill together are good choices for these trips."
The YHA has also seen a rise in family duos booking their affordable digs, said the association's Anita Kerwin-Nye. "A hostel stay can offer many benefits to 'holi-bonders', not just affordable accommodation. Interacting with other hostellers as a family duo can enrich your travel experience." Shared areas to escape to and chatting to other guests allow hostellers a bit of off-time in a one-on‑one trip.
Clinical psychologist Dr Charlotte Russell, who studies the psychological benefits of travel, says that bonding holidays present an ideal opportunity for adults to reconnect amid the whirl of careers and caring and parenting responsibilities, albeit with some caveats.
"Holidaying with one other person can be intense, so it is important [on these holidays] to find the right balance of time together and apart," says Russell, adding that nostalgia can be a good basis for a successful trip. "Think about activities that you have done together in the past: paddling in the sea, say, or eating fish and chips on a windy harbour, for example. Any experience that takes us back to positive family memories can help us to reconnect."
Three holidaying parent-child duos tell us how they got on.
Sally Howard
'We get lost and have spats, but it's brilliant'
Gemma Willette, 24, who runs an online DIY platform, and her mum, Carolyn Baker, 67, an NHS worker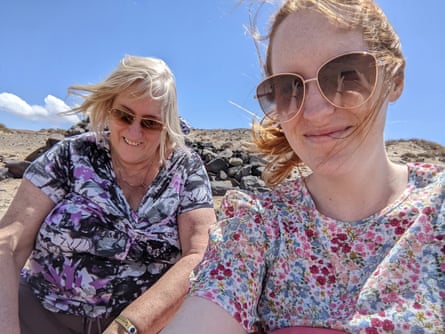 Gemma For the first 12 years of my life I was raised by my mum, who was a single parent. Then my stepdad, Colin, came along, which was lovely, but we did lose that sense of it being me and Mum against the world.
Mum owns a caravan at Heacham on the Norfolk coast and these days we go there together for long weekends, to walk along the wilder bits of coastline and pootle about Sandringham, as we're both into stately homes. That said, one-on-one holidays can bring out the classic generational conflicts.
I'm a mum now and we have an ongoing spat about weaning. And she'll never trust the satnav over her memory, so we get lost every time on the Norfolk backroads. I'm moving to the US soon (my husband is in the military and being posted over there), so Mum and I are off to Norfolk on our final bonding holiday this weekend: it'll be very bittersweet.
Carolyn It's hard to catch up properly with Gemma at home: life just takes over and you find you're doing chores rather than chatting, especially when you have little kids around. That's how it felt when Gemma was young, too: it took all of my energy to make ends meet as a single mum, to get myself to work and get her to school.
At the caravan, you walk from the decking on to a river that's full of paddling ducks and straight across the salt beds and a broad expanse of sand. It's really peaceful; not busy with tourists like Hunstanton down the coast. There's nothing better than sitting and watching the brilliant orange sunset over the Wash, having a good natter and sharing a bottle of wine.
'I wanted to show my mum the world'
Sonya Barlow, 23, an online entrepreneur, and her mum, Adiba, 51, housewife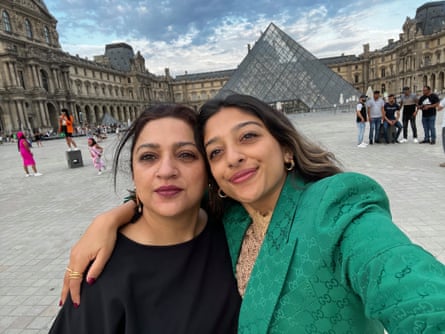 Sonya My mum moved to the UK in her 20s. I'm the oldest of four kids and she always worked really hard as a stay-at-home mum. Holidays back then were either cheap car trips around the UK to places like Blackpool or seeing family back in Pakistan, so when I got older and left home I wanted to help Mum to see the world a bit.
We've been to Cornwall twice, where we walked across the cliff tops, and to Paris by Eurostar, where we had a blissful couple of days eating ice-cream and going to the Louvre.
You don't "see" your mum when you're a kid: I didn't understand how young she was when she had me, and how much she and my dad sacrificed for us, but our bonding holidays have changed that. Mum loves to people-watch. I always thought, "Ugh, what a boring thing to do", but sitting with her for hours on end watching the world go by on holiday is now my favourite thing in the world.
Adiba In our culture it is not normal to be "friends" with your kids, so I was hesitant when Sonya asked me to travel with her. I thought, why not travel with your own friends? In the end, though, I was very proud because Sonya seemed determined to spoil me.
She knows I like nice, comfortable hotels and that I'm not a fan of exotic foods, so she planned things she knew I would enjoy: no hostels and, importantly, no seafood!
Relaxing with my daughter in a Paris hotel spa or over a leisurely breakfast, I found that I was sharing things I've never talked about before: about my experience as a child growing up, and leaving Pakistan as a young woman.
I hope my car sickness stands the pace for our next trip: an adventure into the mountains of northern Pakistan.
'Dad and I dress up, fight and drink ale'
James Bore, 39, a security consultant and his dad, Chris, 67, a retired signal processing engineer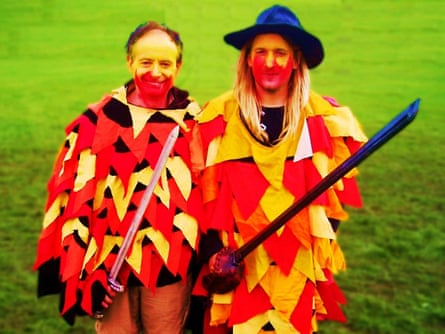 James Dad and I have found a shared passion for live-action role play holidays after I pestered him for years to join me on one of the weekenders. Role-play weekends are themed around scenarios such as a fictional empire at war, or a realm of lost objects, with participants dressing up in costumes and hitting each other with foam weapons, and then bedding down in hostels or tents.
At the day's end, we sit around a fire drinking ale or mead and chatting. It's great for bonding as you have to get into the spirit of it, turn off your devices and be totally present – you don't want to be hauling a laptop around if a Viking is trying to hit you with an axe!
In one really enjoyable event in the Northamptonshire countryside I starred as a "lost sock" dressed in black with a polka-dot sock on my right hand. Dad was a hapless private detective called Milton, who was modelled on Columbo, and kept blundering around, and it was a hoot. We often joke about the time I was dressed as a sock at family dinners.
Chris Fantasy re-enactment is James's passion and for ages I held off from joining him. But then I thought: "If your grown-up son is asking you to spend a precious weekend doing something just with him, why not go for it?"
I'm pleased I did. I tend to act as the daft sidekick to James's characters at these weekends and I'm quite childlike in a way, so it's as if we were meeting each other for the first time in our character guises, without the father-and-son baggage of James's childhood.
He was in stitches at one event where I was dressed as a painted skeleton and pranced about the campsite. I'd really recommend parents and their grown-up kids try something like this, rather than sitting around in their shorts by a pool: there's nothing like being peasant warriors facing down 12 angry orcs to bring you closer together.